Summary
Wikipedia (en/ro)
UNESCO Heritage Site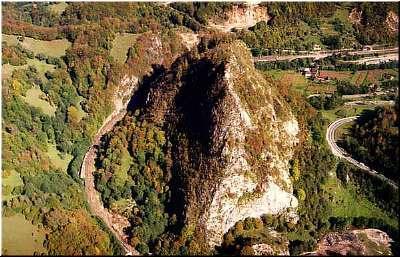 The Dacian fortress of Bănița is one of the six Dacian Fortresses of the Orăștie Mountains, in Romania. Together with the other Dacian fortresses in the area, it was designated as an UNESCO World Heritage Site in 1999. The fortress dates from Burebista's time, and was later restored under King Decebal. The purpose of the fortress was to block access to Sarmizegetusa Regia from the south. The site's fortifications includes enclosure walls, towers, platforms for battle, wave of defense. The fortress functioned until the conquest of Dacia by the Roman Empire.
According to the UNESCO site:
"The Băniţa fortress was constructed on a steep conical hill in the Jiu valley. The only side on which the summit was accessible was on the north, and this was defended by a strong stone wall in murus dacicus style. The fortress itself was entered through a gate leading to a monumental limestone stairway with andesite balustrades. The plateau above has three terraces at different levels."
Location:
Province or Region: Banita village, Banita commune, Petrosani city, Hunedoara County.
Geographical coordinates:
– Latitude 47°27' – 45°497' North,
– Longitude 23°09' – 29°31' East.